Weight of Water (The)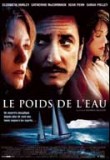 Weight of Water (The)
États-Unis, 2000
De
Kathryn Bigelow
Scénario :
Alice Arlen
Avec :
Elizabeth Hurley
,
Catherine McCormack
,
Sean Penn
,
Sarah Polley
,
Vinessa Shaw
Durée : 1h55
Sortie : 01/01/2000
Note FilmDeCulte :
A photographer goes on a sailing ship with her husband, her brother in law and his girlfriend to investigate on a double murder that happened a hundred years before on an island of New England.
Kathryn Bigelow had faded from radars since the audacious and marvellously executed Strange Days, seven years ago. Actually, the poor showing at the box-office of Strange Days seems to have been an hurdle to The Weight of Water (which is being released after the commercial failure of K-19, which was shot afterwards).
A semi-failure or a semi-success, it depends on how you look at the glass. Bigelow muddles two stories without an ounce of fluidity making her Weight of Water particularly heavy. Making an extensive use of parallel editing, she associates the repressed emotions and feelings of two heroines living in two different eras: present-time photographer Catherine McCormack, and nineteenth-century pilgrim's wife Sarah Polley who has just settled in America. Going mechanically back and forth from one century to the other, the movie appears unbalanced.
On the one hand, thanks to beautiful work on the cinematographer's part, the segment taking place in the past (and telling the story of the double murder) manages to capture the viewer's attention. Moreover, it's carried by Sarah Polley's astonishing performance that brings a dark and dramatic feeling to most of the scenes. On the other hand, the present-day segment is totally uninteresting, burdened by shallow characters, ridiculous scenes (Liz Hurley, half-naked, rubbing her body with an ice-cube) and a less than noteworthy visual work. It would have been a better idea to stay on the island.