Underworld (english version)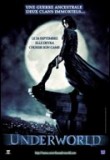 Underworld (english version)
États-Unis, 2003
De
Len Wiseman
Scénario :
Kevin Grevioux
,
Danny McBride
,
Len Wiseman
Avec :
Kate Beckinsale
,
Shane Broly
,
Robbie Gee
,
Bill Nighy
,
Michael Sheen
,
Scott Speedman
Durée : 1h55
Sortie : 01/01/2003
Note FilmDeCulte :
For centuries, both vampires and werewolves clans have been at a merciless war. When Selene, a vampire, learns that young Michael Corwin is looked for by her enemies, she also goes on his trails and discovers some deeply hidden secrets.
PARALLEL WORLDS
Far from being new, the basic concept of Underworld has not yet been used in motion pictures. Len Wiseman's first movie evokes role playing games such as Vampire The Masquerade or White Wolf, but the idea of bringing this world onto the screen is praiseworthy. Moreover, Wiseman and the screenwriter Danny McBride manage quite well to describe a world that is almost invisible to humans, the world of "monsters". Within a few scenes, the superior class of vampires is opposed to the subterranean race of the lycans (a name given to werewolves). The former live in luxurious manors and move with grace, whereas the latter proliferate in sewers and emit a purely visceral energy. They are two similar microcosms that share some common points with our own way of life, even in their History. For quite a long time, the fate of the two species has been disturbed by an old war which has become an eternal conflict. But within this plot lies a non-exploited potential. So, if from a technical point of view, Underworld is rather successful, the script could have been improved.
Written by a stuntman, the plot is spoiled by useless or redundant twists that fail to keep the audience involved. The storytelling is rather laborious as the few good ideas are not used as well as they could have been. Apart from the lack of fights between creatures, we regret that the underlying theme of the individual linked to his past and his History is so much neglected. Indeed, despite the presence of that very idea, it is still far too vague, drowned in uninteresting action scenes and the boring development of the story. As a matter of fact, there was a possibility of creating a third parallel with the human world. Just like other science-fiction flicks before Underworld, it could have reflected our own society through fantasy and gone beyond its serial category. So, despite an achieved film directing, photography and special effects, the movie never manages to go beyond a post-Matrix level, that would be a homogeneous mixture of several popular references, from comic book to a gothic aesthetic close to that of Dark City. Far from being disgraceful, Underworld is nothing but ordinary.
En savoir plus
Quelques liens :