Shaolin Soccer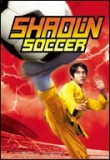 Shaolin Soccer
, 2001
De
Stephen Chow
Scénario :
Stephen Chow
,
Cheong Tsang Kan
Avec :
Stephen Chow
,
Ng Man Tat
,
Patrick Tse Yin
Durée : 1h30
Sortie : 01/01/2001
Note FilmDeCulte :
Fung is a former soccer legend who gets brutally fired by his ex partner Hung, now boss of the "Team Evil". Together with Shaolin monks he decides to put together a rival team with a very peculiar style.
Shaolin Soccer finally reaches the big screen after already gaining cult status on the DVD market. Unfortunately, the American distributor Miramax presents a shortened version, though supervised by Stephen Chow. This new cut lacks in consistency but gains a new rhythm and is arguably funnier. It is by far the best comedy of the year and is not to be missed. Ninety minutes of uninterrupted gags, incredible visual effects, cult scenes, next to which Captain Tsubasa looks like a real-life boring soccer match. Even if you're not interested in soccer you can't help but love the achievements of Sing and his friends. Shaolin Soccer is pure steroid-filled entertainment, the ideal anti-depressant after a long workday. Stephen Chow looks set to become the new Asian star in the film industry. His movies are all hits in Hong-Kong and his Bruce Lee/Jackie Chan-esque look, should just gain him many more fans worldwide.
The magic recipe for the success of Shaolin Soccer is this unique mixture of humorous comedy, naïve romance and incredible action scenes. Stephen Chow uses each and every kind of joke in this movie. Chow not only cleverly makes a mockery of American blockbusters (Jurassic Park, Face Off), spaghetti western and even Michael Jackson's Thriller, but he also lets his very fertile imagination come into play. This being said, Shaolin Soccer is not only a succession of gags like you can already find in Z.A.Z movies. Stephen Chow is used to working with the same group of actors and you can actually feel how much affection he has for his actors and the big-hearted losers they portray. One cannot help feeling sympathetic, compassionate for this idle team. Beyond simple laughter suddenly and surprisingly comes emotion and a beautiful story of friendship.
This movie is technically a perfect rival for the latest American productions. Stephen Chow had a comfortable budget, more than ten million dollars, and he worked in collaboration with the famous choreographer, and also director, Ching Sui Tung. The special effects created by Centro Digital Pictures (Stormriders) are outstanding enough to make ILM green with envy. If the editing sometimes feels kind of off, it's only due to the infamous cuts ordered by Miramax (for which profitability is more important than artistic qualities). The idea of mixing soccer with kung-fu is a stroke of genius. And, of course, Stephen Chow is already at work on a sequel.
En savoir plus
Quelques liens :