Respiro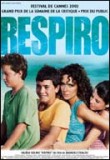 Respiro
Italie, 2003
De
Emanuele Crialese
Scénario :
Emanuele Crialese
Avec :
Vincenzo Amato
,
Francesco Casisa
,
Valeria Golino
,
Muzzi Loffredo
,
Filippo Puccillo
Photo :
Fabio Zamarion
Musique :
Andrea Guerra
Durée : 1h30
Sortie : 01/01/2003
Note FilmDeCulte :
South Sicily. A whimsical young woman chooses to say no to her fellow villagers narrow-minded conventions. Threatened with exile she decides to flee and with the help of one of her sons she disappears.
Respiro - Bande annonce Vost FRenvoyé par _Caprice_. - Court métrage, documentaire et bande annonce.
A SCENE AT THE SEA
Impulsive and sensual Grazia innocently dives into the sea under the bewildered look of the fishermen. Naked or very lightly dressed, the incautious mermaid makes a display of her naïve almost indecent attitude for the island of Lampedusa. With its discrete virtuosity Respiro awakes the old mariner's dream of a mermaid-like creature emerging from the water. Deaf to the reprimands and the disputes of the island people, Grazia finds shelter in a cave on the edge of the sea. Emanuale Crialese lives near Malta, where he slowly got familiar with the dialect and the customs of a local village. Discovered during the Critic's Week in Cannes, Respiro brings back to life old popular beliefs and gives Italian cinema a well-deserved hit. Right between fable and etudes de moeurs, Crialese writes an elegant metaphor around a mermaid fleeing authority. Belittled by a sexist surrounding, Grazia suffocates under the weight of traditions and fights against the intellectual fishing nets the villagers put around her. With its heavy (but not heavy-handed) symbols Respiro is touching beyond its literary inspirations.
VAGUE YEARNINGS
Discovered more than ten years ago with a supporting role in Rain Man, Valeria Golino portrays a moving, unconcerned and permissive mother, still a child herself. Either an all-too present wife or a dream woman, the actress is just perfect in a part written right for her. Dealing with wandering kids, bad-tempered men and a capricious heroine, Respiro is planned around inoffensive and cruel games. Under a heavy sun kids are catching and eating birds before fighting against their rival gang. Grazia feeds wandering dogs, while her daughter, under the possessive surveillance of her young brother, tries to flirt with a carabinieri. Dividing the island into two distinct parts, the earthly agitation and the under-water quietness, Emanuele Crialese leads us into a fantastic breach, rocked by the wonderful music of John Surman. Grazia innocently repairs the broken harmony, she leads parents, children and the villagers to the doors of a dream in a weightless reality. Hypnotised by the sea bottoms, Pasquale loses consciousness and Pietro catches sight of the silhouette of his missing wife. Far from closing the romance between the earth and the sea, the beautiful final sequence definitely turns this movie into an essential and touching respiration.
En savoir plus
Quelques liens :