Matrix Revolutions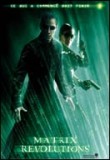 Matrix Revolutions
États-Unis, 2003
De
Andy Wachowski
,
Lana Wachowski
Scénario :
Andy Wachowski
,
Lana Wachowski
Avec :
Monica Bellucci
,
Laurence Fishburne
,
Carrie-Anne Moss
,
Keanu Reeves
,
Hugo Weaving
,
Lambert Wilson
Durée : 2h08
Sortie : 01/01/2003
Note FilmDeCulte :
The first thing that comes to mind after seeing The Matrix Revolutions is that the Wachowski brothers shouldn't have yielded to the inevitable "obligation" of doing a trilogy. Had they condensed the second and third volumes of their saga into a single concise and complete episode, they would've probably achieved a result more or less equal to that of the first chapter. The Matrix Reloaded was filled with ideas, and had unsatisfying action (the gratuitous first fights, the long Burly Brawl scene…), this one is two hours of pure action, but contains only a few ideas. However, the dynamic duo manages to capture some of the essence of the first outing and no doubt has it that this final chapter is far better than the previous one
A final chapter in the story of a war, between humans and machines, the film is loaded with scenes similar to the greatest battles in recent cinematic history, like the battle of Helm's Deep in The Two Towers or the dream sequence at the beginning of Terminator 3. As opposed to the second movie, the action scenes here serve a purpose and help advance the plot. Moreover, the events in the picture allowing it more than ever, it sure qualifies as the most impressive effort of all three flicks regarding the visuals. The all-but-discreet digital effects and intolerable use of "matrix code" shots (like the memorable tracking shot towards that lady's private parts) have disappeared, making way for a spectacle that generates sheer joy. The image of giant robots firing away at countless sentinels will forever mark everybody's mind whereas the rest of the sequences in Zion translate a sense of darkness and gloom like never before in the franchise. The first film was mainly set inside the matrix, the second shift from one to the other, this one is definitely a "real world" story.
Nonetheless, too much fighting gets in the way of proper communication. The overloaded, over-complicated dialogues of the last episode have been left behind. There is no more time, their world is coming to an end, the characters go straight to the point when they have to say something. The Wachowski brothers thus rectify one of the major problems of Reloaded but they don't leave much else in. Some scenes are certainly quite beautiful. The main protagonists, such as Neo, Trinity and Smith, are quite well served, while the rest of them stand in waiting. Mostly, Revolutions is a good surprise after its disconcerting predecessor. The story suffers from being split into two movies, and although it lacks something as intangible as the first chapter's brilliance, its freshness and sobriety maybe, it remains a beautiful accomplishment.