Lilo & Stitch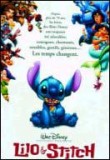 Lilo & Stitch
États-Unis, 2002
De
Dean DeBlois
,
Chris Sanders
Scénario :
Chris Sanders
Avec :
Tia Carrere
,
Daveigh Chase
,
Kevin McDonald
,
Ving Rhames
,
Ashley Rose Orr
,
Jason Scott Lee
Durée : 1h36
Sortie : 01/01/2002
Note FilmDeCulte :
Lilo is a Hawaiian girl who loves taking pictures, dancing hula and listening to Elvis' music. Odd and lonesome, her only family is her sister Nani (and David, Nani's boyfriend) who got the idea to buy her a dog. Of course in the kennels Lilo chooses the most bizarre dog and names it Stitch. But, what she doesn't know is that this little unusual pet is in fact the result of a genetic experiment engineered by an extra-terrestrial scientist and that its only goal is to ruin everythin.
Facing the new techniques in the animated movie field and the expansion of Japanese animation, everyone has noticed the decline of the Disney empire. Going for broke, the studios of our youth place before their latest movie a short in which Mikey is changed into a lustful monster then played with their Sleeping Beauty Castle logo and transformed it into an extra-terrestrial galaxy. There's no doubt about it, Disney is recycling to our greatest delight. Lilo & Stitch is a real performance, one of the best Disney movies of the past years.
The first novelty, as it was mentioned in the tagline, was to create heroes that were more "normal" and less smooth than usual Disney characters. Besides Stitch who is a devastating monster coming from outer space, we can admire a little girl more cynical, mischievous and little madam than ever, a kind of Tinkerbell crossed with one of Cinderella's evil sisters. Lilo is different and a little hard-core: she takes pictures of fat sun burned people on the beach, hits her mates, tells that ants have laid in the head of her doll and locks her sister out saying that she wants to die in peace listening to Elvis music.
This change is also visible throughout the drawings. Princess pastel sequined ward-robes, perfect bodies and delicate faces are over. Lilo has a little charming spud nose and runs around in flip-flops and pareo dress, Nani's legs are way too long in her ragged jean shorts, David looks like a Mattel Hawaii Ken coming out of its box and the welfare officer is dressed like one of the Men In Black. As for the extra-terrestrials, even if they remind us of movie characters that we already know by heart, they have this little something that make them seem new and believable.
Another novelty we already saw in the last Disney Movie Atlantis is the absence of simpering and maudlin songs (except maybe for the very short and discreet song that Nani sings to Lilo). Here we are bathed in an Hawaiian surrounding with tunes that sometimes remind you of the Beach Boys and of course some Elvis hits. Pure enjoyment…
In this little happiness one can regret the irregularity of the rhythm. When the first half is really interesting with a very good introduction to the characters, the second one becomes sometimes a little bit too conventional with the usual moral aspect and the two tiring extra-terrestrial lads. But don't forget, after all, you're in front of a Disney movie…