Irreversible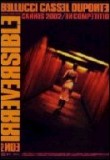 Irreversible
France, 2002
De
Gaspar Noé
Scénario :
Gaspar Noé
Avec :
Monica Bellucci
,
Vincent Cassel
,
Albert Dupontel
Durée : 1h38
Sortie : 01/01/2002
Note FilmDeCulte :
In a sordid backroom a man smashes the head of a gay man with a fire extinguisher. A woman get raped in a tunnel. The woman, her lover, and her ex get drunk at a party, fight and leave each other. Irreversible.
SPOILER WARNING: the following review gives away some of the movie's main plot points.
Incandescent. Unbearable. Unbelievable. Unconceivable. Indescribable. Irreversible.
Gaspar Noé's second movie is a UFO : unidentified filmic object. Irreverisble is a sensory and formal bombshell, a truly unique movie that gets you in the guts up to disgust and nausea. It's also a sickening and ground-shaking sensorial and artistic explosion whose stomach-churning violence hides a beautifully crafted, sensitive, responsible work of art. It's a beautiful, wonderful, touching, terribly controlled movie with an aesthetic of the extreme, a dark and pessimistic message, all blended in the same climactic flow of sounds and images.
Though heavily criticized by a crowd of old sheep, Irreversible is more of an ode to women than a movie about violence and revenge. And it's above all a masterpiece that was unfairly ignored by last year's Cannes film festival jury.
It all begins with false ending credits cleverly presented scrolling up on the screen. Gaspar Noé takes the same idea as Christopher Nolan did for Memento and doesn't use a simple chronology to tell his story, or flashbacks to help clarify the facts, but goes back in time, from madness to calm, from hate to love, from hell to heaven. The script did not imply this clever narrative choice that changes altogether the perception of the characters and of the story.
The first half-hour is a plunge into chaos. The camera seems out of control, buzzing around lights, walls, briefly looking at every character that passes by. We're like a moth looking for light. Daft Punk's Thomas Banglater's score, together with the amazing work on the sound creates a state of hypnosis. Staggering, with all of its references lost, the spectator is waiting for a quiet time in this flurry of sounds, images and smells.
Noé's first movie, Seul contre tous, was already very imaginative with an amazing work on the Butcher's hallucinogenic voice-over. Plan sequences are at the heart of Irreversible. As a fan of Stanley Kubrick's, Noé uses one of the ideas of the late master. A specific subject calls for a specific form. Irreversible makes references as well to Lars Von Trier, Michael Haneke, Peter Tcherkassky, and Hou Hsiao-hsien: Von Trier for its visual look closely resembling Element of Crime and his excessive taste for light ; Haneke for his desire to strike the spectator in the heart, not in a gratuitous and irresponsible manner but in order to convey a message, a meaning ; Tcherkassky for the impressive work on editing and this particular way of mixing the images together ; Hou Hsiao-hsien finally for the intimate scenes enhanced by the plan sequence to try and reach a form of truth in the midst of madness.
After a while, the camera calms down. We're with Marcus and Pierre in the backroom of a gay club, The Rectum. Marcus is looking for a guy named Le Tenia and is obviously ready just to pummel him to death. Why? With this reverse chronology Gaspar Noé transforms the meaning of the movie. Without knowing the purpose of his revenge, the whole thing seems disproportionate. Noé is watching out for the foul beast inside every man, he's tracking the point of no return. Marcus wants to fight but gets beat up. Suddenly, the calm and unassuming Pierre grabs a fire extinguisher and then comes a scene of unprecedented violence. The work on the sound is terrifying. Each time Pierre strikes feels like a detonator and Le Tenia's face is slowly beaten to a pulp. Albert Dupontel is outstanding during this scene. His eyes shows no hate, only relief and despair.
Back in time again, probably eight or nine minutes earlier. Marcus and Pierre are out on the streets looking for Le Tenia. Pierre is trying to bring his friend back to his senses, but Marcus is overexcited by drugs and this rage burning inside him. Gaspar Noé doesn't make the hunt for the rapist a least bit glamorous. On the contrary, he's showing how one thing irreversibly leads to another. Violence calling for violence. An eye for an eye, and a tooth for a tooth. Revenge belongs to mankind. Why? Indeed for Noé man, as opposed to woman, is driven by impulses, shaken by violent outbursts, like an animal.
Back in time again. Pierre is explaining to policemen how Alex found herself on her own. He's going back in time, regretting all the little details leading Alex (Monica Bellucci) to go back home alone. He loves her deeply, with his heart of hearts. So does Marcus. Vincent Cassel's screams looking at the beaten face of Bellucci are the strongest proof of love. The spectator is stunned. A rape is mentioned. Gaspar Noé films reality in its length, without any movement of the camera or additional music. He shows the rape in its pure horror. One can judge this unbearable but it is never complaisant. And that's the moment when the narrative Noé chose does not prove to be just a trick but instead a strike of genius. Irreversible is not a movie about revenge after a sordid rape, but a movie about happiness before the tragic turn. A party that turns out badly, a conversation in the subway between Alex, a true incarnation of feminity, her husband Marcus and her ex-lover Pierre, an intimate scene deepening the relationship between them, and transforming the movie into a Greek drama. It seems everything was already written. Time destroys everything.
The actors are all outstanding. The improvised scenes give to Irreversible an hyper-reality feel that, if it's sometimes clumsy, is always touching. The obvious love between Monica Bellucci and Vincent Cassel – husband and wife behind the scenes too – enhances the reality of these intimate moments, who then seem to attain a truth, the Truth. Albert Dupontel playing the ex-lover who doesn't give in to violence first and who finally becomes an animal gives us an amazing performance. Of course, Irreversible is not flawless. Gaspar Noé is conscious of his own virtuosity and insists too much on his subject and references. Nevertheless he gives us a unique, absolute and tremendous movie. Time doesn't destroy everything. In five, ten, twenty years the only scandal brought about by the movie will be his lack of recognition in Cannes.
En savoir plus
Quelques liens :